Nissan Car Key Replacement
One of the most-unexpected and inconvenient situations you can land yourself in is a lost car key predicament. Not only is your vehicle rendered useless, but now your day and any events you had planned are put on hold. When you find yourself in a lost Nissan car key situation, your stress is only magnified as you try to locate a reliable automotive locksmith that can provide you with expert Nissan car key replacement services. Thanks to American Best Locksmith, there's only one call you need to make to obtain a new Nissan key. The Nissan car key replacement team here at American Best Locksmith is equipped with cutting-edge technology to easily assist you with all of your Nissan car key replacement, duplication, programming, and remote services. Whether you're in need of a smart key, transponder key, or a key-less remote, there's no job we can't handle. Nissan car key services generally range between $150.00-$400.00 depending upon the type of key, programming needed, and time required to travel on-site to you to perform service. Our Nissan car key replacement services are available in, and within, a 30-mile radius of all the locations that we service. Please refer to our "
Service Areas
" page to learn more about the areas we provide expert locksmith services to. For detailed service options and pricing, we ask that you please call or submit a service request to get in touch with our team.
Nissan Car Key Services Offered
Nissan Car Key Replacement
Nissan Car Key Duplication
Nissan Car Key Programming
Nissan Emergency Key Replacement
Nissan Lost Key Replacement
Nissan Broken Key Extraction
Nissan Transponder Key Programming
Nissan Smart Key Replacement
Nissan Remote Programming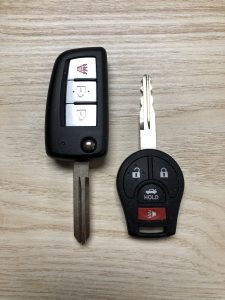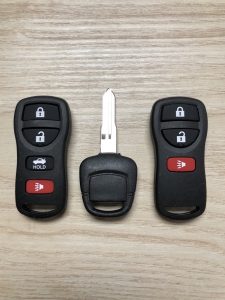 Nissan Lost Car Key Replacement
On average, Nissan vehicles manufactured in the year 2008 and after are equipped with smart keys that offer a push-to-start function on the vehicle. These smart keys are often referred to as proximity fobs or keys because they operate within proximity of the vehicle. Nissan smart keys are able to remain pocketed as you approach, unlock, and start your vehicle offering you the most convenience when operating your vehicle. The keys communicate with several antennae within the vehicle via transmitted signals outputted by the transponder chip located in the inner-workings of the fob. These smart keys are highly intelligent and require a skilled and trained auto locksmith technician to properly program them to the vehicle. If your Nissan is not equipped with a smart key and push-start feature, then most likely it requires a transponder key to be provided, cut, and programmed to the vehicle. Some non-smart key options include a standard, remote-less key and remote keys that boast key-less lock, unlock, and alarm options. Despite the fact that these keys aren't considered smart keys, they still utilize some pretty smart technology in the form of a transponder chip that communicates with the car's computer, maintaining a high level of vehicle security. These keys also require a trained professional equipped with state-of-the-art equipment to program the key to the car's computer. The Nissan car key replacement team at American Best Locksmith is able to provide, cut, and program all keys for all Nissan vehicles on the road today, give us a call to learn more!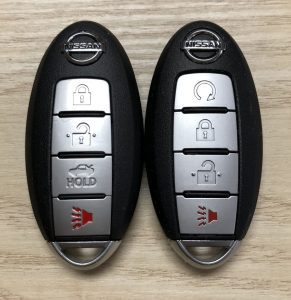 Nissan Emergency Key Replacement
Another smart feature that Nissan smart keys sport is a sneaky, little emergency key that is housed within the proximity fob. By sliding a slight switch over on the end of your fob, you'll see a small, metal key pop out of the end. This emergency key is a life-saver if you ever find that your fob or car battery has died; it offers you emergency access to the vehicle by manually opening the driver's side door lock. Many Nissan owners are unaware that this key resides within their smart key. It is highly important to have your emergency key cut to the vehicle in case you ever land yourself in an unpredicted key failure situation. American Best Locksmith is able to provide and cut emergency keys for all Nissan smart vehicles. If you're ever in the need of a replacement emergency key; feel as though you should get a duplicate made to have on hand; or discover that your key is uncut and you require key cutting services, you can always count on American Best Locksmith.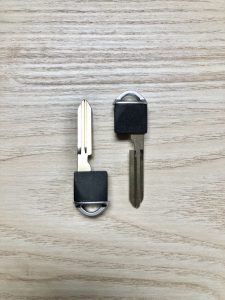 Mobile Nissan Car Key Replacement Service
The Nissan auto locksmith team at American Best Locksmith is proud to offer you the convenience of Nissan car key replacement services on-site with your vehicle. You never have to worry about towing your car to a dealership or service provider with American Best Locksmith around. Our car key replacement specialist travel in mobile service trucks that are filled to the brim with all the required, tools, equipment, and programming software to see your mobile Nissan car key replacement needs from start to finish. We strive to provide our customers with the most convenient and affordable Nissan key services. We understand that your lost key predicament is already stressful enough on its own, so why add more to your plate? One quick call to the customer service team at American Best will get you connected to a seasoned professional who can go over all service options, pricing, and turnaround time. We work diligently to get you and your vehicle back on the road quickly. Whether you're in need of complete key replacement, smart key programming, emergency key cutting, or key duplication services, it's in your best interested to reach out to a professional team like American Best Locksmith. Call or email us anytime for expert, mobile Nissan car key replacement services, our team is here to help!
Nissan Vehicles American Best Locksmith Services
Altima
Maxima
Sentra
Leaf
Pathfinder
Quest

Murano
Armada
Versa
GTR
370Z
Titan

Note
NV
Juke
Frontier
Xterra
Kicks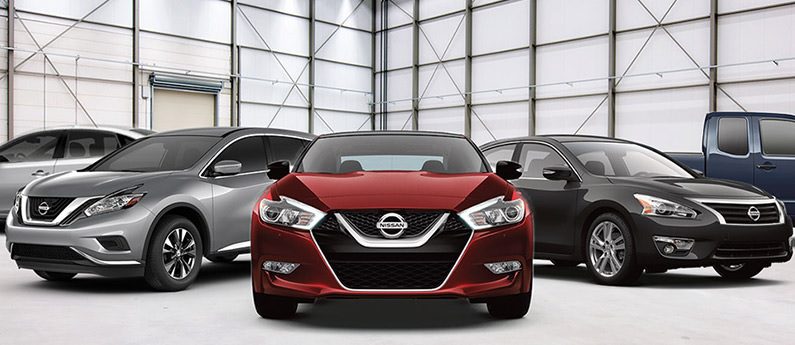 Other Vehicles American Best Locksmith Services