Infiniti Car Key Replacement
Losing your car keys is an extremely stressful situation that can leave you scratching your head, puzzled as to what steps you need to take. When you add in the factor that you're in need of Infiniti car key replacement services, your stress seems to double. Locating reliable Infiniti auto locksmith professionals can prove to be a difficult task. Not only do you wish to find the best deals and most-affordable service, but you also have to be sure that you're hiring a credible professional to come out and assist you. When you call the Infiniti car key replacement team at American Best Locksmith, you can be sure that you'll get exactly what you need for your vehicle. Our car key experts travel in mobile service units equipped with the most cutting-edge machinery and technology in the field to perform full-service Infiniti car key replacement services conveniently at your location. No matter if you're in need of a transponder key, a key-less remote, or a smart key, American Best Locksmith is more-than-capable of assisting you. Depending upon the type of service you need, Infiniti car key services generally range from $150.00 to $400.00. This price varies based upon the type of key your vehicle requires, the programming necessary, as well as the time and distance needed to travel on-site. We're pleased to offer our Infiniti car key replacement services within a 30-mile radius of all locations we service. For more information on the areas we service, please reference our
Service Areas page
. If you're in need of more service details or pricing, please submit a service request online or give us a call to speak to one of our helpful representatives.
Infiniti Car Key Services Offered
Infiniti Car Key Replacement
Infiniti Car Key Duplication
Infiniti Car Key Programming
Infiniti Emergency Key Replacement
Infiniti Lost Key Replacement
Infiniti Smart Key Programming
Infiniti Broken Key Extraction
Infiniti Transponder Key Programming
Infiniti Smart Key Replacement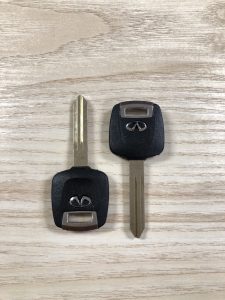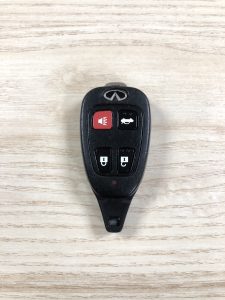 Infiniti Lost Car Key Replacement
Infinitis are luxurious and exciting vehicles, which is why they are equipped with sophisticated, technological keys. Most Infiniti vehicles manufactured in and after the year 2005 are equipped with the Infiniti Intelligent Key that offers a convenient push-to-start function. These Intelligent Keys, or smart keys have a transponder chip within them that operate by communicating with the vehicle through radio frequencies transmitted from various antennae located within the vehicle. As you approach the vehicle you can lock and unlock your doors effortlessly and even get in and start the vehicle without ever removing the key from your pocket; because they operate within proximity to your vehicle, these keys are also referred to as proximity fobs/keys. Due to the transponder chip located within these smart keys they need to be programmed in order to work.  When you're in need of a lost Infiniti car key replacement service, American Best Locksmith has the capability to program your replacement proximity fob to your vehicle! If your Infiniti is not equipped with a push-to-start ignition, then most likely it still has a key fitted with a transponder chip and may also have a separate remote. Starting in 1997 Infiniti made the leap to begin equipping its vehicles with the secure feature of transponder keys. These transponder keys add extra security to your Infiniti because the car will not start unless a programmed key is inserted into the ignition. When the key enters the ignition, the vehicle's ECU will send a message to the key that the key must accurately respond to in order for the vehicle to start. To guarantee that your key will work properly, it's crucial to hire a certified professional; the lost Infiniti car key replacement team has all materials and equipment needed to provide, cut, and program all keys for all years, makes, and models of Infinitis. Give us a call today to learn more details about our service options and pricing!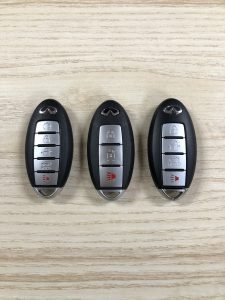 Infiniti Emergency Key Replacement
One thing that may surprise you about your Infiniti is that the smart keys are furnished with an emergency key that pops out by sliding a subtle switch. The emergency key is a small, metal key blade that you can use to manually unlock your car door in the event that your car battery dies or your key suddenly stops working. This emergency key can prove to be extremely useful when you suddenly find yourself in need of emergency access to your vehicle, so it is exceptionally important to ensure that this key is cut to your vehicle. American Best Locksmith keeps a full stock of Infiniti emergency keys and can easily provide and cut duplicate and replacement emergency keys to your vehicle. You can always rely on American Best Locksmith when it comes to your Infiniti emergency key replacement needs, regardless of if you need a last-minute service on-site at your vehicle's location, or you'd like to schedule an in-shop appointment at your convenience. Feel free to give us a call for more information on our emergency key services.
Mobile Infiniti Car Key Replacement
One of the most-beneficial aspects of hiring our company is our mobile Infiniti car key replacement service. We understand how frustrating and inconvenient it can be to suddenly find yourself in a lost car key scenario, so we try to make the key replacement process as seamless as possible. With a company like American Best Locksmith around, you don't have to worry about getting your vehicle towed to the dealership for your car key replacement service needs. Our mobile Infiniti car key replacement experts travel in service trucks filled with an array of tools, materials, and programming equipment to perform full-service car key replacement services right at your vehicle's location. Long gone are the days of over-spending on costly towing fees and astronomical dealer prices for something as vital as a car key replacement service. With one easy call to American Best Locksmith, our customer service associates will get you in touch with a licensed and certified professional who will go over all service options, pricing, and will coordinate a time to meet you on-site for service. Our technicians are professionals who have completed thorough training and certification programs to ensure that they can assist you with a myriad of Infiniti car key replacement services including but not limited to: transponder key replacement, transponder key duplication, transponder key programming, smart key replacement, smart key duplication, smart key programming, and emergency key replacement and duplication services. You can always count on American Best Locksmith to deliver when it comes to mobile Infiniti car key replacement services; submit a contact form or give us a call today to schedule service, our team is committed to helping you!
Infiniti Vehicles American Best Locksmith Services
EX35
FX35
FX37
FX45
FX50
G20

QX30
QX50
QX56
QX60
QX70
QX80

Other Vehicles American Best Locksmith Services