Hyundai Car Key Replacement
It's never a fun time when you discover that you've lost your Hyundai car key. After you've finished frantically searching and come up with no results, it's time to begin the task of locating a Hyundai car key replacement expert that you can rely on. Our team here at American Best Locksmith can provide, cut, and program all smart keys and transponder keys for all Hyundai models. Our locksmith experts travel with all the tools and equipment needed to quickly and affordably get you and your Hyundai back on the road. On average, to replace a lost Hyundai key, the service ranges between $125-$400.00 depending upon the type of key, programming required, and time needed to travel on-site. Here at American Best Locksmith, we're able to assist you with a vast range of Hyundai car key replacement services. We have an expansive stock of Hyundai keys, and we also offer options for servicing customer-provided keys. If you purchase a key online or at a dealer, we are able to work with your key, however, only brand-new keys will be supported. Our Hyundai car key replacement services are available in and within a 30-mile radius of all cities we service. We ask that you please call and/or email us for more details and exact pricing for your service needs.
Hyundai Car Key Services Offered
Hyundai Car Key Replacement
Hyundai Car Key Duplication
Hyundai Car Key Programming
Hyundai Emergency Key Replacement
Hyundai Lost Key Replacement
Hyundai Broken Key Extraction
Hyundai Transponder Key Programming
Hyundai Smart Key Replacement
Hyundai Remote Programming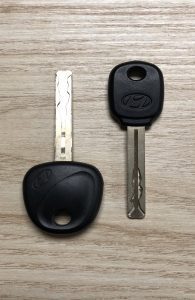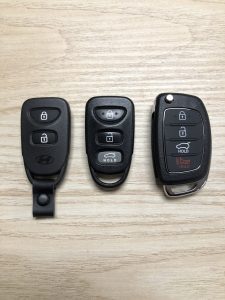 Hyundai Lost Car Key Replacement
Most Hyundai models are equipped with high-security keys to ensure the security of your vehicle; very few locksmiths are able to cut high-security keys. However, American Best Locksmith has the capabilities to provide, cut, and program high-security Hyundai keys on-site wherever your vehicle is located! Some Hyundai models are not equipped with a transponder -or chip- so the programming step is not always required. This can make the process of your Hyundai lost key replacement service quicker and more-affordable, however it does make your vehicle more-susceptible to theft as that security feature is missing. If your vehicle is equipped with automatic locks and you're in need of a key-less remote to lock and unlock your doors by pressing a button, this function will need to be programmed to your car's computer. If your vehicle is equipped with a push-to-start ignition, it means your vehicle requires a smart key with a chip and key-less options. This chip will need to be fully programmed to your car. These keys cannot be programmed by amateurs and 'do-it-yourself-ers', they require professional programming equipment to program the key to the car's terminal. Many Hyundai models after 2011 are equipped with push-to-start smart keys, which means in most cases it can be difficult to locate an automotive locksmith that has all the tools and equipment for your lost Hyundai car key replacement service. Thankfully, American Best Locksmith has the top-of-the-line equipment and a plethora of Hyundai keys in stock to provide auto locksmith services for all Hyundai models.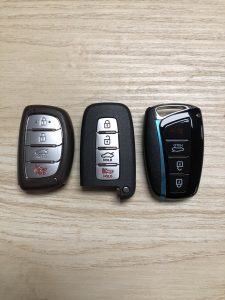 Hyundai Emergency Key Replacement
Your smart key is smarter than you think! Did you know that your Hyundai smart key has a secret compartment for an emergency key? Many Hyundai owners do not know that with the simple push of a button, a secret emergency key will slide out from your smart fob. This emergency key can be used in the event that your battery has died in the car or your key; it works to manually unlock your door. It is extremely important to have this key cut to your car to ensure that you can still gain access to your vehicle in case of an emergency. If you're in need of a replacement emergency key or a duplicate, feel free to give us a call or shoot us an email. American Best Locksmith can cut all emergency keys for all Hyundai smart models.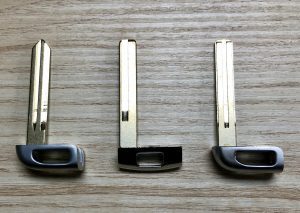 Mobile Hyundai Car Key Replacement Service
The auto division team at American Best Locksmith can handle every step of replacing all Hyundai keys in a mobile manner. We come on-site to your location in mobile service units filled with all the tools and materials needed to provide, cut, and program your replacement key or fob quickly and efficiently. If you need a key fob replacement or duplication service for your Hyundai, it is in your best interest to reach out to a reliable and credible service provider like American Best Locksmith. Long gone are the days of towing your vehicle to the dealer, waiting days on end for service, and paying astronomical prices just to get your vehicle back on the road. At American Best Locksmith we work to make your Hyundai car key replacement services as seamless and affordable as possible. Our convenient, mobile key replacement services are available same-day to ensure you can quickly get your life back on track; we know how important your vehicle is to you, so your satisfaction is our top priority. Whether you need a transponder key replaced, smart key provided and programmed, an emergency key replaced, or a remote programming service for your Hyundai, there's only one company you need to call: American Best Locksmith. Feel free to reach out to us anytime by phone or email to learn more about our expert Hyundai car key replacement services.
Hyundai Vehicles American Best Locksmith Services

Other Vehicles American Best Locksmith Services