BMW Car Key Replacement
If you can't find the keys to your trusty BMW, there's no need to worry! Just give the world-class BMW car key replacement team at American Best Locksmith a call! Our licensed and trained automotive locksmiths can assist you with a wide array of pertinent BMW car key services. From key duplication to entire ignition replacement services, there's no locksmith job regarding your BMW that we can't help with. At American Best Locksmith, we understand how frustrating it can be to find yourself in a lost BMW car key predicament. There aren't many service providers that are able to perform the complicated task of providing and programming a BMW replacement key, so it can be especially difficult locating a company that is capable of assisting you. To help alleviate you of the stressors associated with obtaining a BMW car key replacement service, we have a team of expert BMW locksmiths that offer constant availability for all of your service needs. Since your BMW is a high-class luxury vehicle, it is no surprise that service for it tends to be on the pricier side. A BMW key replacement service on average will range between $300.00 to $500.00 depending upon the year and model, required programming, and distance traveled to your location. Our BMW specialists are happy to offer key replacement services in and within a 30-mile radius of the
locations we serve
. If you ever find yourself in need of an emergency BMW key replacement service, the only call you need to make is to American Best Locksmith! Our customer service team is on standby eager to assist you in getting your beautiful car back on the road in no time.
BMW Car Key Replacement Services
BMW Car Key Replacement
BMW Car Key Duplication
BMW Car Key Programming
BMW Emergency Key Replacement
BMW Lost Key Replacement
BMW Smart Key Programming
BMW Broken Key Extraction
BMW Transponder Key Programming
BMW Smart Key Replacement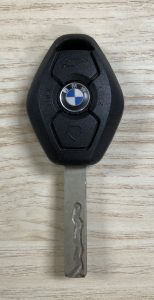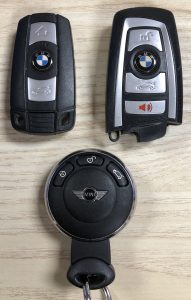 BMW Car Key Replacement and Programming Services
Cruising along in your BMW gives you a true feeling of class and sophistication. Not only are you riding in a soundly-built vehicle, but you're also riding in style. So, when you suddenly find yourself facing a lost BMW car key scenario, it can be quite a traumatic experience. Getting a lost BMW car key replacement service isn't as easy as it is to get one for a standard vehicle like a Honda or Toyota. BMW's run on extremely complex computer systems that require specialized programming when you need to obtain a replacement key. Whether you have an older model BMW or a newer one, the key that your vehicle will use will require state-of-the-art technology to ensure its properly programmed. Thankfully, American Best Locksmith has a team of BMW specialists that have the programming tools, software, materials, and expert knowledge needed to provide, cut, and program keys for all BMW vehicles on the road today. No matter if you need assistance with a hand-held remote key or a sophisticated smart key, we can help. Continue reading below to learn more about the complex systems that secure your BMW.
Electronic Drive Away Protection (EWS)
As early as 1993, BMW began implementing Electronic Drive Away Protection in their vehicle which translates to Electronische Wegfahrsperre in German, thus the EWS System was born. The EWS System works through frequencies transmitted between a transponder chip in the key and a coil located within the ignition slot. When you lock the doors from the outside, a high frequency signal is sent from the door lock to the General Module (GM), which then sends a high signal to the Digital Motor Electronics (DME). When this signal is received, the DME cancels the fuel and spark functions of the vehicle, thus rendering it to a no-start condition. To allow a continuance of engine operation, the vehicle MUST be unlocked with the appropriate key to cancel the original message relayed to the DME from the GM. This feature was cutting-edge in its time and truly reshaped the path for automotive security in both luxury and standard vehicles.
Car Access (CAS) Control Module
Later down the line BMW started using a CAS (Car Access) Module for antitheft purposes. The CAS Module also communicates with the DME through transmitted frequencies which enable the car's starter. These frequencies send a start code that needs to be communicated and matched between the CAS and DME Modules. Each time the vehicle starts, a new code will be determined between the modules that will need to be recognized and matched again, the next time you attempt to start the vehicle. We'll give you a quick walk-through of how this CAS Module works to identify your key and allow you to start your BMW.
Key is inserted into the vehicle ignition slot.
The transponder in the key is activated by the loop antenna in the ignition.
The CAS Control Module will then check the key data to ensure it matches and will then proceed to send an enable signal to the starter.
Next the CAS Control Module sends the code to the DME/DDE where it is checked against the saved random code. If these codes match, the fuel injection will then be released.
Once the engine has started, the CAS Control Module will generate a new code and transfer it to the transponder in the key.
This new, random code will also be created and stored in the DME/DDE and will be required to match the code sent from the CAS Control Module the next time you attempt to start the vehicle.
Front Electronic Module (FEM)
Starting in 2012, BMW began utilizing a Front Electronic Module (FEM) as the central control unit of the vehicle's electrical system. This module is located on the passenger-side footwell and controls all the front-end functions of the vehicle. This module streamlines the startup process for your vehicle and still guarantees the same complex level of safety and security as older modules mentioned above.  This streamlining is achieved by reducing the number of computers that need to communicate with each other to initiate the engine start message. Not only does the FEM incorporate the functions of key security that we discussed in the EWS and CAS sections, but it also manages the climate control, interior and exterior lighting, mirrors, wipers, and more.

Like the CAS and EWS systems, your Front Electronic Module will need to be programmed in order to provide a duplicate or replacement BMW car key. The BMW car key experts at American Best Locksmith can come out to provide expert key replacement service, ensuring the FEM has been accurately programmed to your keys.
BMW Smart Key and Emergency Key Replacement
Here at American Best Locksmith, we're proud to house a team of BMW car key replacement experts that have completed all the needed coursework to become masters in BMW auto locksmith services. Majority of BMW vehicles on the road today are equipped with smart keys and push-to-start ignitions that provide an effortless method to unlock and start your vehicle. In addition to standard key features, some BMW smart keys are equipped with LCD touch screens giving you control options for your vehicle as well as statuses on oil life and other maintenance needs. There are even keys that allow you to move and park your vehicle all with the touch of a button! With sophisticated keys like this, it's no wonder that there are such complex procedures that go into providing new or duplicate BMW keys.

BMW Emergency Key Replacement Services
While a BMW smart key is significantly different from any other smart key in the market, there are a few things it has in common, one of them being a helpful emergency key. The emergency key is a secret, metal key blade that is housed within your smart key. This key is cut to the door to allow you to gain access to your vehicle in the event that you experience a key failure or your battery dies. It is highly important to guarantee that this key is cut to your car; you don't want to discover it is uncut at a time when you need it most. For all your BMW emergency key replacement and cutting needs, American Best Locksmith is here to help. Our mobile BMW car key replacement experts can come out on site to provide and cut new or additional emergency keys for your vehicle. If you happen to be in the area of one of our service shops either in Houston or Philadelphia, you can stop in to get a convenient in-shop emergency key service done as well. Give us a call today to learn more about your BMW smart key and the services we offer, we're here to help!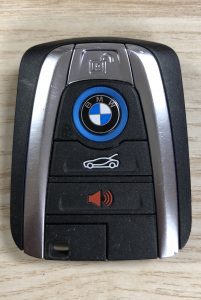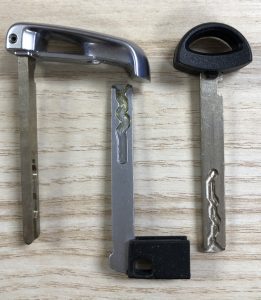 Mobile BMW Car Key Replacement Service
One of the most-convenient aspects of our expert BMW car key services is the fashion in which we provide them. Not many service professionals can come out to your vehicle on-site and provide, cut, and program a replacement key in a timely and cost-efficient manner. This oftentimes leaves you stuck with the only option of getting your car towed to the dealer for your BMW key replacement needs, which is a time-consuming and expensive procedure. Sometimes the dealer can take days or even weeks to complete a key replacement service, this is the least-ideal of situations for you to face as now you're left without your vehicle until the dealer's finished. At American Best Locksmith, our mobile BMW car key team will head right out to where your vehicle is located with a service truck filled with all the tools and cutting-edge technology needed accurately provide and program a replacement BMW key. Our technicians have spent countless hours learning the skillset required to understand an manipulate the complicated programming processes to remove, program and reinstall the complex computer systems BMW's are equipped with, such as the EWS, CAS, and FEM we discussed above. The best choice you can make when you're in need of mobile BMW car key replacement services, is American Best Locksmith, we're more-than-capable of helping you get your BMW back on the road!
Best Car Key Replacement Services For BMWs
Professional BMW Car Key Replacement Services
If you've started to notice that unlocking or locking your BMW is becoming more difficult, then you may need a BMW car key replacement. Normal wear and tear can cause a key to become deformed. It will no longer fit inside of the lock perfectly. Key fobs may also start to develop problems in their programming or the electronics may become damaged. When that happens, you need American Best Locksmith to provide you with BMW car key replacement services.
Why You Should Choose Our BMW Car Key Replacement Services
An important aspect of our locksmiths is that they have tons of experience. We're the best at BMW car key replacement because we've handled several different replacements before. We've handled normal keys and key fobs. We've also worked on several different kinds of BMWs. That ensures that no matter what kind of BMW you drive, we'll be able to give you a high-quality BMW car key replacement service.
Besides our experience, you can also expect our car locksmiths to offer affordable prices. We know how frustrating it can be to discover your locks or keys aren't working properly. We'll make sure you can safely lock and unlock your BMW without charging you an arm and a leg for it.
Try the Best BMW Car Key Replacement Service Today
Don't let your BMW's keys become inoperable. Contact us today for our expert BMW car key replacement service and enjoy easily locking and unlocking your car again.
BMW Vehicles American Best Locksmith Services
4 Series
i8
1 Series
5 Series
6 Series
M3
X4
3 Series
M5
7 Series
X6M
Z3