Locksmith Services In Philadelphia, PA
Looking for a locksmith in Philadelphia? Well then look no further! American Best Locksmith has you covered for any Philadelphia locksmith services you may need. We are a trusted, mobile locksmith company that has operated in Philadelphia, as well as the surrounding areas, for over 10 years. Our technicians are available even on weekends and holidays to ensure there's always a locksmith in Philadelphia when you need one! We even offer our expertise in-house at our one-of-a-kind service shop; learn more about our locksmith shop in Philadelphia.

Whether you're in need of an automotive, commercial, or residential locksmith service, we at American Best Locksmith are here to help you. Not only do we offer extraordinary service, but you can rest assured knowing that when you choose us, you're getting the best possible customer service from beginning to end. American Best Locksmith has the latest, leading automotive equipment that is available on the market today. We can complete even the most sophisticated auto locksmith services with ease, even transponder key services! Since we provide our customers with mobile service, we will save you time and money by making your car key right on the spot, avoiding costly trips to the dealership.

The next time you need a locksmith service at your home, business, or car, you don't have to panic. Our expert team is ready to help. We provide numerous lock services that will help ensure that you're never locked out of your home, business, or car. Here are some services and features that you can expect from American Best Locksmith, the top locksmith in the area of Philly.
Auto Locksmith in Philadelphia

By choosing our company to be your service provider, you're guaranteed to receive high-quality automotive locksmith services. We can cut and program nearly any car key or key-less-entry remote on-site, helping you to avoid hefty towing fees to get your vehicle serviced at the dealer. In addition to car key replacement services, our service professionals are also able to assist you with complete ignition changes for practically every vehicle out. No one can compete with the capabilities of our automotive locksmith experts. Prior to the innovation of mobile locksmith providers, anytime you misplaced your car key or ran into ignition issues, you were forced to bring your vehicle to a dealership for service. Thanks to the mobile locksmith team at American Best Locksmith, you can avoid hefty dealer prices, tedious towing situations, and time-consuming service procedures with one quick call to our customer service team. Our technicians travel in mobile service units that are filled with all the tools required to cut and program your replacement car keys right at your location. When you're in need of an auto locksmith in Philadelphia, American Best Locksmith is the best choice to make. We guarantee you'll be satisfied with our efficient and effective on-site services.
Our Auto Locksmiths Offer Car Key Replacement
One of the benefits that you can experience with our lock services is our top mobile service. We understand that emergencies happen. When they occur, you need someone able to respond quickly. This is particularly true in times of bad weather. You can rely on our expert mobile locksmith to show up when you need them most. Our mobile locksmith carries all of the tools and equipment necessary to handle practically any job. If you either can't make it to us or you need someone to come to you, then our mobile locksmith is happy to help. We make it convenient for you to receive our top lock services.
Philadelphia Commercial Locksmith Services

At American Best Locksmith, we're proud to offer the most superior commercial locksmith services in Philadelphia. Our commercial lock and key experts are able to assist you with even the most difficult of locksmith services. Our technicians are skilled in handling commercial requests such as: master key systems, panic devices, push bars, combination/keypad locks, commercial lockouts, and much more! Implementing our secure commercial practices in your business can prove to be vital in protecting crucial client and merchant information as well as assets. Our commercial locksmith experts in Philadelphia can come out on-site and complete a comprehensive security inspection to help you highlight any flaws in your business' security. From the findings of this security inspection, our commercial service provider will provide you with a list of recommended services that will improve any weaknesses your current system may be experiencing. For example, if our specialist finds that your company has a high turnover rate, he may recommend getting your locks re-keyed regularly to prevent anyone who is not authorized to return to the business. This service option keeps the existing hardware on the door, but changes the pins within the lock rendering the previous key inoperable. Maybe you're looking for an even more-secure option? Our commercial locksmith technician will then recommend purchasing a high-security lock that features restricted keys that can only be duplicated when presented with a special authorization code (usually provided on a card similar to a credit card at the time of service), to restrict the possibility of unwanted copies being made. Give our customer service team a call today, we'll have one of our commercial locksmith technicians reach out to you to see which services would benefit your business the most. You can even send us a picture of what you currently have implemented in terms of security and we'll be able to provide you with service options as well as accurate, transparent pricing.
Residential Philadelphia Locksmith Services

We have a dedicated team of residential locksmiths in Philadelphia who can assist you in ensuring your home is as secure as possible. We understand that protecting your loved ones and personal property is extremely important, which is why we offer the best residential locksmith services in Philadelphia. Our residential locksmith technicians can assist you with a plethora of home locksmith services including but certainly not limited to: lock changes, re-key services, smart locks, and emergency lockouts. Smart locks, which can be operated from a smart phone or other smart device are now available for $500.00, offering you ease of operation and preventing you from having duplicates of your keys in circulation. Not only is it important to keep your home secure from intruders, but you need to be certain those you invite into your home are safe as well- service providers included. At American Best Locksmith, our residential locksmith experts are licensed and insured and have completed thorough background checks prior to the start of their employment with us. Boasting our safety precautions, and with years of experience in the field, when you choose American Best Locksmith, you know you're selecting the most reputable, professional locksmith company in Philadelphia. If you're experiencing an issue with a broken lock or one that seems to get stuck on occasion, give us a call right away! Not only do we replace locks, but we can also repair damaged locks and extract broken keys and foreign objects from keyways as a more cost-efficient alternative. Be sure to speak with one of our customer service representatives to see what type of residential locksmith service would work best for you. One of our top priorities here at American Best Locksmith is ensuring that we have a stock of all necessary locks to perform your residential locksmith service in a timely, same-day manner. We understand your home needs to be secure at all times; we have emergency locksmith specialists on-call throughout the day to quickly assist you with your Philadelphia residential locksmith needs. Whether you need a lock changed last-minute, or you've found yourself locked out of your residence, you can count on us to promptly assist!
Emergency Locksmith in Philadelphia

Besides being mobile, we also offer emergency locksmith services. When you need a locksmith in Wilmington DE or Philadelphia who can respond to you quickly, choose our best emergency locksmith. As soon as you inform us of your emergency, our emergency locksmith will head your way. They'll have everything they need to fix your problem, so you can return to your normal life. If you accidentally locked yourself out of your car, then our emergency car locksmith can you get back inside of it. Perhaps you locked yourself out of the house, our expert residential locksmith can help you. We even have an emergency commercial locksmith for those who find themselves locked out of their own business. Our team will treat each case with care and respect.
Philadelphia Locksmith Shop

American Best Locksmith is proud to welcome you to our local, Philadelphia locksmith shop! For over ten years now we have been providing Philadelphia and the surrounding areas with expert mobile locksmith services, and we're thrilled to now offer all your lock and key service needs in-shop as well. You can now come right to our neighborhood locksmith shop and showroom located at 2324 Margaret Street Philadelphia, PA 19137 and get a variety of professional locksmith services completed at affordable prices. Our car locksmith technicians are able to provide car key replacement, duplication, programming, and cutting services that are second-to-none. In need of a quick re-key service? Stop by our shop and we'll be able to key your locks alike for you in no time at all. Our locksmith showroom is conveniently located in Philadelphia and features comfy seating as well as numerous amenities as you wait for your lock and key services to be completed. When you need the locksmith Philadelphia counts on for residential, commercial, automotive, and emergency services, you need American Best Locksmith. We go above and beyond to ensure our customers are completely satisfied with the services they're receiving.
We'd love to have you stop past our locksmith shop! All in-shop service is by appointment only, we ask that you please call us an hour prior to when you'd like to stop by. Our technicians work both in-shop and out in the field providing mobile, emergency locksmith services, so we wouldn't want to miss you! Our shop hours are as follows:
Locksmith Store Hours
Mon-Sat: 10AM-5PM EST
Sun: Closed
Mobile Service Hours
Mon-Sat: 8AM – 9PM EST
Sun: 9AM-7PM EST
In-Shop Auto Locksmith Services

At American Best Locksmith in Philadelphia we know how stressful and time-consuming finding yourself in need of an auto locksmith can be. To better serve you and alleviate the stress of the situation, our car key replacement services are available in-house and in our traditional mobile fashion as well. When you're still able to drive your vehicle and are in need of auto locksmith services, we recommend coming to our car key shop for service so you can save on the costs. Our car locksmith specialists have undergone thorough training and are able to perform a plethora of auto locksmith services. We always recommend making sure that you have a spare key handy for your vehicle in case you find yourself in a lost key situation. Having a spare key on hand can at least guarantee that you won't end up stranded at your last location. We can provide, cut, and program a duplicate car key for your vehicle in no time. Our technicians can assist you with a wide variety of auto locksmith services including but not limited to: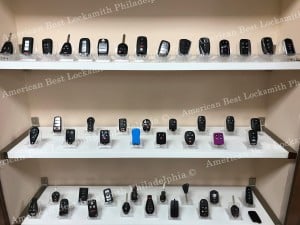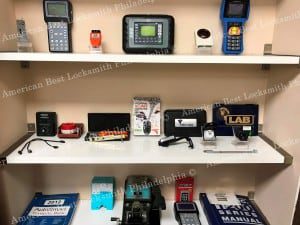 Auto Key Programming
Key Duplication
Car Key Replacements
Auto Remote Programming
Smart Key Programming
Keys Cut by VIN Number
Transponder Programming
Ignition Repairs and Replacement
High Security Key Cutting
Much More!
Transponder keys are a great security feature found on a majority of makes and models of vehicles. A transponder key is equipped with a transponder chip that transmits a radio signal to the car's immobilizer and allows the vehicle to start. This process keeps thieves from being able to start your vehicle with cloned keys that aren't programmed. Our Philadelphia locksmith shop auto technicians are able to program transponder keys and remotes for all makes and models of vehicles! We can't wait to have you stop by our locksmith shop in Philadelphia for reliable automotive locksmith services. While you're here you can browse through the many varieties of automotive remotes and accessories  found in our car key shop.
The Philadelphia Locksmith Shop You Can Trust

American Best Locksmith Philadelphia is armed with a team of professional locksmith technicians that you can trust and depend on. When you trust a Philadelphia locksmith shop with your locks -be them residential or commercial- you are entrusting them with your security. You can trust our licensed, insured, and bonded experts to provide you with the most secure and professionals services possible. When you need an auto locksmith Philadelphia can count on, you can always call American Best Locksmith. Our locksmith shop features a wide variety of residential and commercial lock products and displays so you can select the lock that best matches your needs. When you're in need of a lock re-key service, our in-shop professionals can re-key your locks and provide you with key copies in a quick and efficient manner. If you find yourself in need of a safe service, our safe specialist is able to provide opening services, combination changes, and lock changes. Looking for a way into your safe, or need a way to keep people out? We're the ones to call. We are able to supply you with a great deal of lock and key products and services including but not limited to: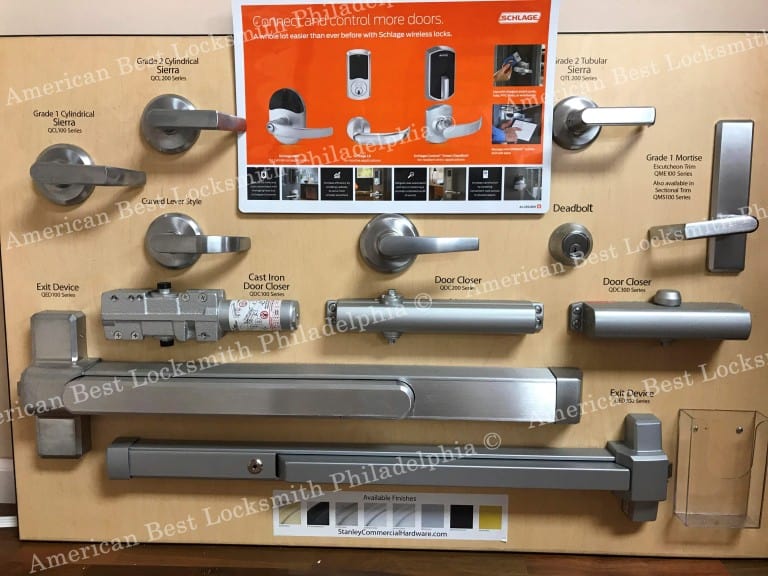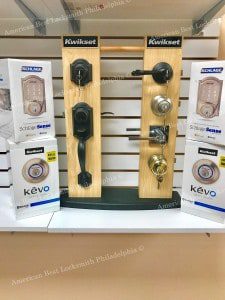 High Security Locks
In-Shop Lock Re-Keying
Access Control System
Master Key Systems
Door Closers
Commercial Locks
Push Bars and Exit Bars
Safe Services
And Much More!
Never hesitate to reach out to us when you're in need of dependable, local Philadelphia locksmith services. You can stop past our car key shop for a plethora of automotive locksmith services from ignition rebuilds, to auto lock repairs, to quick key duplication; our car key replacement services are the most reliable and affordable around! When you need residential and commercial security assistance, we're the ones to call. Whether you're in need of services on-site, or plan to stop by our Philadelphia locksmith shop, you can count on our mobile services technicians to deliver and you can always rely on our shop to be here for you. Call us at (215) 330-4900 for professional Philadelphia locksmith services, we can't wait to hear from you!
Car lockout solutions
Unlock car door
Car Rekey
Fast locksmith
Ignition key replacement
Car lock pick
Ignition key replacement
Broken car key Replacement
Remove broken key
Duplicate car key
Wide variety of transponder key blanks

Problems with transponder key
Unlock trunk
Transponder key programming
Car Lockout
Remote key repair
Spare car key making
Rekey car locks
Duplicate car keys
Lock replacement
Chip key or switchblade key
Switchblade keys replacement & programming

Broken ignition key
Locked door service
Key cutting
Ignition replacement
Chip key replacement
Fast locksmiths
Chip key programming
Lock picking & unlock car door
Switchblade key fobs replacement
Transponder keys replacement
Chip keys & Coded car keys

Ignition replacement keys
Chip key programming
Car key replacement
Lost car key solutions
Car key battery replacement
Emergency lost keys services
Spare car keys
Trunk Unlocking
Fix or replace remote car keys
Ignition key programming
Car key battery replacement
Lost Office Keys
Rim Locks Installed
Master Key Systems
Digital Safes
High Security Locks
Cabinet Locks and Accessories
Exit Devices
Latches
Combination Locks
Electronic Locks
Intercoms
Latch Guard
Mortise Locks
Vending Machines

Emergency Office Lockouts
Lock Discount Service
Broken Keys Removed
Safe Keys Replaced
Electronic Locks
Cam Locks
General Lock
Biometric Locks
Continuous Hinge
Elevator Locks
Jewelry Case Hardware
Lever Locks
Slide Bolts

Key-less Entry Door Locks
Safe Locks
Buzzer Systems
Computer Locks
Commercial Lockouts
Door Closers/ Door Plate
Key Card Locks
Briefcase Locks
Digital Keypads
Fire Door Hardware
Juke Box Locks
Man Traps
Slot Machine Locks

Digital Locks
Commercial Lock Repair
Filing Cabinet Locks
Door Key Replacement
Access Control
Electric Eye
Keyless Entry Systems
Chamber Locks
Buzzer Systems
Gate & Gate locks
Luggage Locks
Magnetic Locks
Time Locks
Rekey Your Home
Cheap Residential Locksmith
Broken Key Extraction
New Lock Installation
High-Security Locks
Fence Gate Locks
Patio Door Locks
Emergency Lock Out Service

House Lockout
Master Key Systems
Biometric Locks
Lock Replacement
Lock Repair Services
Custom Lock Installation
Window Locks

Lost Keys Replacement
Locks Replacement
Safe Lockout
Re-keying Services
Sliding Door Locks
Residential Service
File Cabinet and Desk Locks

Emergency Service
High Security Locks
Combination Change
Keyless Entry Locks
Garage Door Locks
Home Lock Repair
Mailbox Locks
Safe installation
Safe lock replacement
Safe opening service
High security safes
Opening a safe without combination
Opening a safe lock with a dial combination

Safe service
Safe opening
Open safe combination lock
Home security safes
Professional safe opening service
Safe crackers

Safe repair
Gun safe lock replacement
Digital safe lock replacement
Depository safe
Opening a locked safe
Digital safe cracking

Safe re-keys
Safe opening locksmith
Open combination safe
Fireproof home safes
Locked safe opening
American Best Locksmith Coupons