Motorcycle Locksmith Services
Motorcycle service only available in select areas of Pennsylvania & Los Angeles.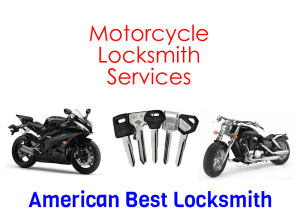 All motorcycles require keys and when you have lost or broken the key you need to start your bike knowing who to call that can make the new key for you right away is important, this is why American Best Locksmith wants to educate our customers on some of the motorcycle locksmith services we have available . When you want to ride and are left standing looking for your key or trying to locate the spare you can easily miss out on the nicest ride of the year.
But by keeping our motorcycle locksmiths phone number handy you can rest assured after a quick call into our customer service team we will have the technician you need right at your side to make the new key so you can get back on the bike and ride free.
Motorcycle Locksmith for Keys
Unless you have a remote started installed starting your motorcycle requires a key whether you own a vintage Harley or a brand new Kawasaki; have a single sided or double sided or even a barrel key our motorcycle locksmiths have you covered and can make the new key you need on the spot. From gas cap keys or break locks and even seat lock keys we can get you the key you need to get back on your bike ripping up the road like you should be. Since we operate in a mobile fashion we are easily able to get right out to where you and your motorcycle are located and perform all our locksmith services right there on the spot.
Aside from making new keys for your bike we are also able to re key your motorcycle ignition, replace the old ignition with a new one and even install new locks for your seat, breaks, gas cap or forks. With all the tools and parts needed to complete anyone of the many motorcycle locksmith services we offer fully stocked in our mobile service units we are able to help you out regardless of the make or model of your motorcycle, scooter or moped.
Emergency Motorcycle Locksmiths
If you find yourself with your motorcycle key stuck or broke inside the ignition no need to worry we have the specialized extraction tools in each of our mobile service units so we can take out the broken piece without damaging your bike, in the cases where we need to replace the entire ignition in order to get your bike up and running again we carry the replacement ignitions in stock as well. If you just purchased your bike it is the best idea to get the ignition and other locks rekeyed in order to ensure that you are the only one who will be able to use the bike. In most cases we can easily re key the locks and provide you with a new key but in the special instances where we need to change the lock or ignition we are also trained to do so with no damage to the motorcycle.
From Honda motorcycles to BMW models, Harley Davidson keys to Yamaha our motorcycle locksmith service is the only one you will need to call to get your motorcycle locksmith issue resolved. Open with mobile locksmith professionals able to come right to your location there is no other number you need to call but our American Best Locksmith motorcycle locksmith specialist.
Mobile Locksmith Services | Home | Car Key Replacement Service