Mitsubishi Car Key Replacement
Mitsubishis started out as fun, sporty cars to zip around town in. As time has gone on, they've grown from sport to also accommodate families, as well as those looking for a more-professional look. Despite how much they've changed over the years, one thing remains the same, Mitsubishis are reliable and wonderful cars to own. If you ever happen to find yourself in a lost Mitsubishi car key predicament, you may find that it can be extremely stressful to find a credible company that you can rely on to provide you with Mitsubishi car key services. American Best Locksmith has an entire team of Mitsubishi car key experts that are able to assist with a plethora of car key replacement services. Our Mitsubishi car key team is equipped with cutting-edge technology to efficiently assist you with all Mitsubishi car key replacement, duplication, programming, and remote services. No matter if you're in need of a push-to-start key, a transponder key, key-less remote or remote key, there's no job too big for American Best Locksmith. On average, Mitsubishi car key services range between $150.00-$400.00; this depends upon the service required, type of key needed, as well as the time and distance needed to get on-site to perform service. Please feel free to take a look at our
locations serviced
to learn more about the areas we service as well as the services provided there. For more information on our expert services, please feel free to submit a service request or give our team a call!
Mitsubishi Car Key Services Offered
Mitsubishi Car Key Replacement
Mitsubishi Car Key Duplication
Mitsubishi Car Key Programming
Mitsubishi Emergency Key Replacement
Mitsubishi Lost Key Replacement
Mitsubishi Broken Key Extraction
Mitsubishi Transponder Key Programming
Mitsubishi Smart Key Replacement
Mitsubishi Remote Programming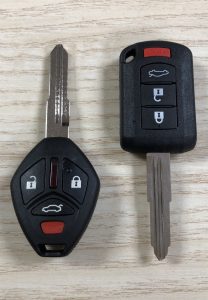 Mitsubishi Lost Car Key Replacement
Mitsubishi vehicles are of Japanese creation, which began production all the way back in 1917. They became well-known in the United States in the early eighties. After maintaining their market for quite some time, they experienced a decline in the early 2000's, until they managed to rebound around 2015. After that time we started seeing many cars produced that had taken technological strides to support today's tech-crazed market. Mitsubishi began using transponder keys around the year 2000 for most of their vehicles to ensure they kept up with the ever-changing technology of their time. As time went on, Mitsubishi adopted remote keys and now smart keys as well. Smart keys, or proximity fobs as they're often referred to, are highly intelligent keys that communicate with the vehicle through a series of transmitted frequencies once the key is within proximity of the vehicle. This allows you to unlock and start your car without even having to remove the key from your pocket. How convenient! These keys can be very expensive and require a skilled hand to properly program them to your vehicle. If your vehicle does not happen to be equipped with a smart key, then most likely it has a transponder key. Majority of Mitsubishi keys are equipped with transponder chips that are complex to program and require a skilled professional to successfully accomplish obtaining, cutting, and programming a key from start to finish. These transponder keys can come in the form of a standard chipped key or a handheld remote key that features lock, unlock, and trunk options. Both of these keys need to be programmed to your vehicle to allow the chip within the key to communicate with the car's computer to ensure the car will start when you turn the key in the ignition. Regardless of which type of key you have, American Best Locksmith's Mitsubishi car key replacement team is able to assist. Contact us today to learn more about our services!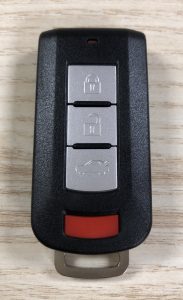 Mitsubishi Emergency Key Replacement
A common feature of modern smart keys is the emergency keys within the fob that slide out. These emergency keys are simple, metal key blades that fit the door lock and allow you to gain access to your vehicle in the event of a key failure or dead battery scenario. Many car owners are unaware of the emergency key's existence and some do not realize that their Mitsubishi emergency keys are uncut until it's too late. It's highly important to have this key cut to your vehicle in the event of an emergency. American Best locksmith is able to provide and cut emergency keys for all Mitsubishi smart keys. If you ever find yourself in need of a replacement emergency key service; think you should get a duplicate or additional emergency key made; or if you're just in need of emergency key cutting services, you can depend on American Best Locksmith for all of the above. Reach out to us today for pricing and service options.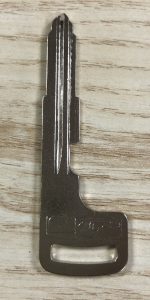 Mobile Mitsubishi Car Key Replacement Services
The car key replacement team at American Best Locksmith is more-than-happy to offer you high-quality Mitsubishi car key replacement services in a convenient, mobile manner. We offer you dealer-level services right where your vehicle is located to help you avoid the costly fees associated with towing and the wait time and service charges you'll face at the dealer. We understand how frustrating it can be when you find that you've lost your car key. Not only has it disrupted your day, but now it is also disrupting your bank account. To help you find the most advantageous and affordable options for mobile Mitsubishi car key replacement services, American Best Locksmith is always here to help. The moment you reach out to us for service, our customer service team will quickly get you in touch with one of our service experts who will go over pricing and schedule service with you to head out immediately or when it is most convenient for you. Please give us a call or submit a contact form anytime you find yourself in need of Mitsubishi car key replacement services, our team is on standby eager to assist you!
Mitsubishi Vehicles American Best Locksmith Services
Eclipse
Eclipse Cross
Galant
Mirage

Mirage G4
Outlander
Outlander Sport
Lancer

Lancer Evolution
3000GT
Montero