Philadelphia Locksmith Shop
We'd love to have you stop past our locksmith shop! All in-shop service is by appointment only, we ask that you please call us an hour prior to when you'd like to stop by. Our technicians work both in-shop and out in the field providing mobile, emergency locksmith services, so we wouldn't want to miss you! Our shop hours are as follows:
Locksmith Store Hours
Mon-Sat: 10AM-5PM EST
Sun: Closed
Mobile Service Hours
Mon-Sat: 8AM – 9PM EST
Sun: 9AM-7PM EST
Find out more about our Locksmith Services in Philadelphia Get Direction

American Best Locksmith is proud to welcome you to our local, Philadelphia locksmith shop! For over ten years now we have been providing Philadelphia and the surrounding areas with expert mobile locksmith services, and we're thrilled to now offer all your lock and key service needs in-shop as well. You can now come right to our neighborhood locksmith shop and showroom located at 2324 Margaret Street Philadelphia, PA 19137 and get a variety of professional locksmith services completed at affordable prices. Our car locksmith technicians are able to provide car key replacement, duplication, programming, and cutting services that are second-to-none. In need of a quick re-key service? Stop by our shop and we'll be able to key your locks alike for you in no time at all. Our locksmith showroom is conveniently located in Philadelphia and features comfy seating as well as numerous amenities as you wait for your lock and key services to be completed. When you need the locksmith Philadelphia counts on for residential, commercial, automotive, and emergency services, you need American Best Locksmith. We go above and beyond to ensure our customers are completely satisfied with the services they're receiving.
In-Shop Auto Locksmith Services   
At American Best Locksmith in Philadelphia we know how stressful and time-consuming finding yourself in need of an auto locksmith can be. To better serve you and alleviate the stress of the situation, our car key replacement services are available in-house and in our traditional mobile fashion as well. When you're still able to drive your vehicle and are in need of auto locksmith services, we recommend coming to our car key shop for service so you can save on the costs. Our car locksmith specialists have undergone thorough training and are able to perform a plethora of auto locksmith services. We always recommend making sure that you have a spare key handy for your vehicle in case you find yourself in a lost key situation. Having a spare key on hand can at least guarantee that you won't end up stranded at your last location. We can provide, cut, and program a duplicate car key for your vehicle in no time. Our technicians can assist you with a wide variety of auto locksmith services including but not limited to: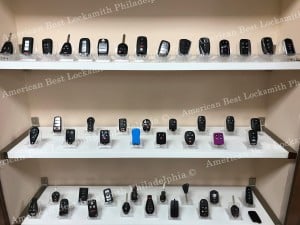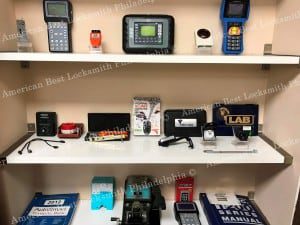 Auto Key Programming

Key Duplication

Car Key Replacements

Auto Remote Programming

Smart Key Programming

Keys Cut by VIN Number

Transponder Programming

Ignition Repairs and Replacement

High Security Key Cutting

Much More!

Transponder keys are a great security feature found on a majority of makes and models of vehicles. A transponder key is equipped with a transponder chip that transmits a radio signal to the car's immobilizer and allows the vehicle to start. This process keeps thieves from being able to start your vehicle with cloned keys that aren't programmed. Our Philadelphia locksmith shop auto technicians are able to program transponder keys and remotes for all makes and models of vehicles! We can't wait to have you stop by our locksmith shop in Philadelphia for reliable automotive locksmith services. While you're here you can browse through the many varieties of automotive remotes and accessories  found in our car key shop.

The Philadelphia Locksmith Shop You Can Trust
American Best Locksmith Philadelphia is armed with a team of professional locksmith technicians that you can trust and depend on. When you trust a Philadelphia locksmith shop with your locks -be them residential or commercial- you are entrusting them with your security. You can trust our licensed, insured, and bonded experts to provide you with the most secure and professionals services possible. When you need an auto locksmith Philadelphia can count on, you can always call American Best Locksmith. Our locksmith shop features a wide variety of residential and commercial lock products and displays so you can select the lock that best matches your needs. When you're in need of a lock re-key service, our in-shop professionals can re-key your locks and provide you with key copies in a quick and efficient manner. If you find yourself in need of a safe service, our safe specialist is able to provide opening services, combination changes, and lock changes. Looking for a way into your safe, or need a way to keep people out? We're the ones to call. We are able to supply you with a great deal of lock and key products and services including but not limited to: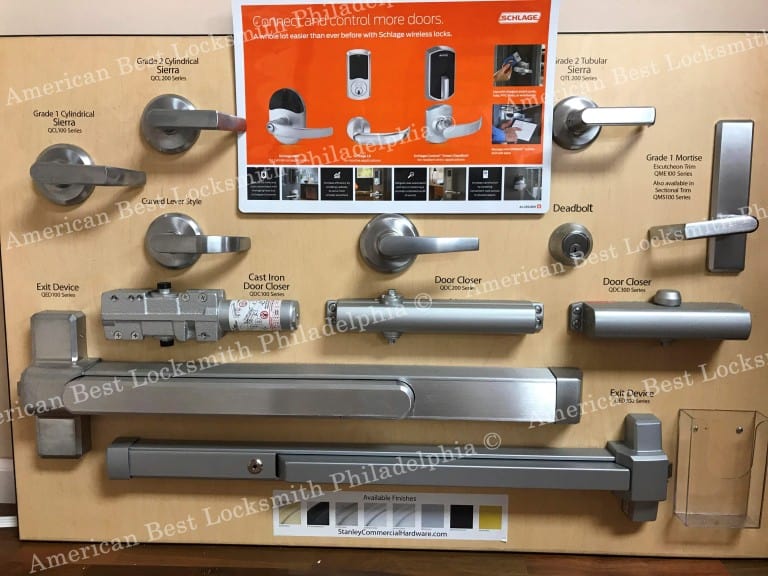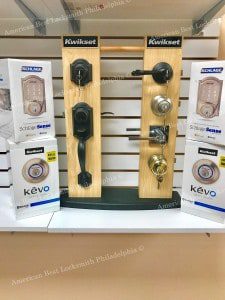 High Security Locks

In-Shop Lock Re-Keying

Access Control System

Master Key Systems

Door Closers

Commercial Locks

Push Bars and Exit Bars

Safe Services

And Much More!

Never hesitate to reach out to us when you're in need of dependable, local Philadelphia locksmith services. You can stop past our car key shop for a plethora of automotive locksmith services from ignition rebuilds, to auto lock repairs, to quick key duplication; our car key replacement services are the most reliable and affordable around! When you need residential and commercial security assistance, we're the ones to call. Whether you're in need of services on-site, or plan to stop by our Philadelphia locksmith shop, you can count on our mobile services technicians to deliver and you can always rely on our shop to be here for you. Call us at (215) 330-4900 for professional Philadelphia locksmith services, we can't wait to hear from you!
Services | Home | Contact Us