American Best Locksmith 6 Month Warranty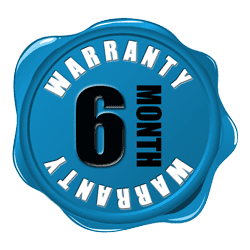 American Best Locksmith is so confident in our expert technicians we offer all of our customers a full service warranty on all of the commercial locksmith and residential locksmith work we perform.
We stand behind our work 100%, and since locks have so many small moving pieces we understand that sometimes things can go wrong, this is why we offer a full six month warranty on all lock related work we perform.
By offering our customers a full 6 month locksmith service warranty it is just another way we are able to instill the confidence in our customers to hire American Best to take care of all of their locksmith needs. Since we are open twenty four hours a day and seven days a week no matter what time of day or night you are in need of the most skilled,
professional company
in the area you can count on American Best to be here to answer your call.
Customer Satisfaction Guarantee
Over the years we have acquired quite a few customers who were dissatisfied with their previous choice locksmith service provider. One of the main reasons for these customers looking for a new company is the fact that the other companies do not stand behind their work and provide the customer with a warranty. And after paying a hefty fee to have locks changed at their businesses or homes only to have them malfunction a few weeks later and have the company try to charge them again it is quite easy to see why they would be frustrated. That is if they are able to even reach their same company. Some of our customers have called back to a locksmith after just a few months to find that they are no longer available or can not be reached at that number. American Best gladly accepts callbacks for work performed by other non professional locksmiths and respond right away. To fix whatever the issue may be with the other companies work and give our NEW customer a full 6 month warranty on the service we completed for them. We treat our customers like the people they are, our neighbors, so we are always there to stand behind our services and assist you even after your service has been completed.
Locksmith Service Warranty
To learn more about our service warranties offered please contact your friendly customer service support team 24 hours a day 7 days a week. They can help you to understand all of the great benefits that a working relationship with American Best can bring you. By choosing our 6 month locksmith service warranty and professional locksmith technicians you are ensuring that someone will always be there to answer your questions and to assist you. When looking at American Best Locksmith the choice is easy, with our licensed, bonded and insured technicians as well as 6 month warranty you can be assured that you will only get the most professional services possible. Not only do our technicians stand behind their work, but you can also check the price list of our services for an estimate. Other locksmiths may try to bait and switch their customers, but American Best's upfront and honest pricing as well as 6 month warranty give customers the most peace of mind in the industry.